.
Ich lese jede Woche durch neue Bücher aus den USA, Kanada und Großbritannien und sammle meine Favoriten auf "bald lesen!"-Listen. Die Neuerscheinungen 2015 – in Deutschland und international – habe ich in immer neuen Vorauswahl-Listen gebloggt:
.
Heute: Mainstream-Titel, die noch nicht auf Deutsch erhältlich sind. "Frauenliteratur" (historical romances), Fantasy und Science Fiction, Unterhaltungsromane.
Mehr Fantasy-Empfehlungen auch hier:
.
01: DAVID A. GOODMAN, "The Autobiography of James T. Kirk"
schon der Klappentext hat Rechtschreibfehler – aber die Kritiken sind euphorisch, und die Figurensprache macht mir Spaß.
288 Seiten, September 2015
"The greatest Starfleet captain's life (2233–2371) in his own words. From his birth on the U.S.S. Kelvin, his youth on Tarsus IV, his time in the Starfleet Academy, his meteoric rise through the ranks of Starfleet and his illustrious career at the helm of the Enterprise, Kirk's singular voice rings throughout the text. Excerpts from his personal correspondence, captain's logs and more give Kirk's personal narrative further depth." [Klappentext, gekürzt]

.
02: LOUISA HALL, "Speak"
durchwachsene Kritiken – aber tolles Konzept!
316 Seiten, Januar 2015
"A poignant novel that explores the creation of Artificial Intelligence: from the Atlantic Ocean in the seventeenth century to a correctional institute in Texas in the near future, told from the perspectives of five very different characters, Speak considers what it means to be less than fully alive. A young Puritan woman travels to the New World with her unwanted new husband. Alan Turing, the renowned mathematician and code breaker, writes letters to his best friend's mother. A Jewish refugee and professor of computer science struggles to reconnect with his increasingly detached wife. An isolated and traumatized young girl exchanges messages with an intelligent software program. A former Silicon Valley Wunderkind is imprisoned for creating illegal lifelike dolls. All five characters share the need to express themselves while simultaneously wondering if they will ever be heard, or understood." [Klappentext, gekürzt]
.
03: SCOTT HAWKINS, "The Library at Mount Char"
viel Pathos, viel Gut-gegen-Böse-Kitsch… aber stilistisch überzeugt mich dieser Bestseller erstmal:
388 Seiten, Juni 2015
"Neil Gaiman meets Joe Hill in this original, terrifying, darkly funny contemporary fantasy. Carolyn was a normal American herself, once. That was a long time ago, of course—before she and a dozen other children found themselves being raised by a man they learned to call Father. Father could call light from darkness. Sometimes he raised the dead. Now, Father is missing." [Klappentext, gekürzt]

.
04: ELIZABETH HAY, "His whole Life"
herzige kanadische Literatur, vielleicht zu schnarchig/bieder
384 Seiten, April 2015
"Family, nature, home: Moving from city to country, summer to winter, wellbeing to illness, the novel charts the deepening bond between mother and son even as the family comes apart. Set in the mid-1990s, when Quebec is on the verge of leaving Canada, this captivating novel is an unconventional coming of age story." [Klappentext, gekürzt]
.
05: CAROLINA DeROBERTIS, "The Gods of Tango"
beginnt wie ein Frauen-Historienschinken – aber ist kantiger, kritischer, packender.
384 Seiten, Juli 2015
"A lush, lyrical story of a young woman and her passion for the early sounds of tango. February 1913: seventeen-year-old Leda leaves her Italian village for a new home, and a new husband, in Argentina. Arriving in Buenos Aires, she discovers that he has been killed, but she remains: living in a tenement, without friends or family. Tango, born from lower-class immigrant voices, is now the illicit, scandalous dance of brothels and cabarets. Leda eventually acts on a long-held desire to master the violin, knowing that she can never play in public as a woman. She cuts off her hair, binds her breasts, and becomes "Dante," a young man who joins a troupe of tango musicians." [Klappentext, gekürzt]
.
06: IAN TREGILLIS, "The Mechanical"
neue Steampunk-Fantasy-Reihe mit sympathischem Ich-Erzähler
440 Seiten, Mai 2015
"My name is Jax. I am a clakker: a mechanical man, powered by alchemy. Armies of my kind have conquered the world. I am a faithful servant. I am the ultimate fighting machine. I am a slave. But I shall be free." [Klappentext, gekürzt]
.
07: LAURA ANNE GILMAN, "Silver on the Road"
schlimmes Cover, toller Stil: ein leiser, langsamer, atmosphärischer (und feministischer?) Fantasy-Western
400 Seiten, Oktober 2015
"On her sixteenth birthday, Isobel makes the choice to work for the devil in his territory west of the Mississippi. His land is a wild west that needs a human touch. Izzy is raised to be his left hand and travel the circuitous road through the territory." [Klappentext, gekürzt]

.
08: ADRIAN TCHAIKOVSKY, "Guns of the Dawn"
ein Fantasy-Routinier mit einem politischen, intelligenten Kriegsroman
658 Seiten, Februar 2015
"A standalone, action-packed pseudo-Napoleonic historical fantasy adventure: Denland and Lascanne have been allies for generations, but now the Denlanders have assassinated their king, overthrown the monarchy and marched on their northern neighbour. At the border, the war rages; Lascanne's brave redcoats against the revolutionaries of Denland. Every household must give up one woman to the army and Emily has no choice but to join the ranks of young women marching to the front. As the war worsens, and Emily begins to have doubts about the justice of Lascanne's cause, she finds herself in a position where her choices will make or destroy both her own future and that of her nation." [Klappentext, gekürzt]
.
09: ALICE HOFFMAN, "The Marriage of Opposites"
Hoffman ist mir oft zu bieder und naiv-historisch – aber hier überzeugt sie mich:
384 Seiten, August 2015
"A forbidden love story set on the tropical island of St. Thomas about the extraordinary woman who gave birth to painter Camille Pissarro; the Father of Impressionism. Idyllic St. Thomas in the early 1800s: Rachel dreams of life in faraway Paris. Rachel's mother, a pillar of their small refugee community of Jews who escaped the Inquisition, has never forgiven her daughter for being a difficult girl who refuses to live by the rules. Rachel's life is not her own. She is married off to a widower with three children to save her father's business. When her husband dies suddenly and his handsome, much younger nephew, Fréderick, arrives from France to settle the estate, Rachel seizes her own life story." [Klappentext, gekürzt]
.
10: LUCY KNISLEY, "Displacement"
ein simples, autobiografisches Graphic Novel über eine traurige Kreuzfahrt mit greisen Großeltern. Stil, Tonfall und die Balance zwischen großen Themen und absurden Anekdoten sagen mir sehr zu.
161 Seiten, Januar 2015
"In her graphic memoirs, cartoonist Lucy Knisley paints a warts-and-all portrait of contemporary, twentysomething womanhood: Knisley volunteers to watch over her ailing grandparents on a cruise. In a book that is part graphic memoir, part travelogue, and part family history, Knisley not only tries to connect with her grandparents, but to reconcile their younger and older selves. She is aided in her quest by her grandfather s WWII memoir." [Klappentext, gekürzt]
.
.
weitere "bald lesen!"-Titel, erschienen 2015:
.
11: KENT HARUF, "Our Souls at Night"
Haruf verstarb 2014. Ich mochte "Plainsong", finde diese Farmer- und Midwest-Romane insgesamt aber zu betulich, harmlos und naiv.
192 Seiten, Mai 2015.
"In advanced age, a man and a woman come together to wrestle with the events of their lives. Holt, Colorado: Addie Moore pays an unexpected visit to a neighbor, Louis Waters. Her husband died years ago, as did his wife, and in such a small town they naturally have known of each other for decades." [Klappentext, gekürzt]
.
12: ROBERT YUNE, "Eighty Days of Sunlight"
sympathischer Schuld-und-Sühne-Mainstream-Roman
288 Seiten, Juni 2015
"As they prepare for college, Jason and his older brother reluctantly work together to investigate their father's suicide. The brothers also travel landscapes of guilt, betrayal, and secrets as they try to figure out what destroyed their family." [Klappentext, gekürzt]
.
13: RICK MOODY, "Hotels in North America"
Moody wird seit Jahrzehnten immer schlechter. Hier überzeugt mich das Konzept – ähnlich den Callboy-Reviews aus Denis Coopers "The Sluts".
199 Seiten, November 2015
"Reginald Edward Morse is one of the top reviewers on RateYourLodging.com, where his many reviews reveal more than just details of hotels around the globe–they tell his life story." [Klappentext, gekürzt]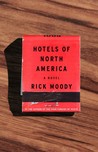 .
14: PATRICK GALE, "A Place called Winter"
Schwuler Historienkitsch? Ich glaube, das Buch ist besser als sein Cover.
352 Seiten, März 2015
"In the golden 1900s, Harry Cane, a shy gentleman, marries Winnie, eldest daughter of the fatherless Wells clan, who are not quite as respectable as they would appear. When a chance encounter awakens scandalous desires, Harry is forced to forsake the land for a harsh new life as a homesteader on the newly colonized Canadian prairies. There, in a place called Winter, he will come to find a deep love within an alternative family." [Klappentext, gekürzt]
.
15: CRAIG SHREVE, "One Night in Mississippi"
S.M. Hulses Bestseller "Black River" gab ich nach 100 Seiten auf: ein Buch über die Spätfolgen von Verbrechen, elegisch-amerikanisch-seicht wie viele neue Clint-Eastwood-Filme. Shreve erzählt einen ähnlichen Stoff im ähnlichen Stil. Besser?
160 Seiten, Februar 2015
"After fifty years of guilt over his brother's brutal murder in Civil Rights era Mississippi, Warren Williams dedicates himself to bringing Graden's killers to justice. A phoned-in tip after a television appearance leads Warren to a remote town in northern Ontario, where he meets Earl Olsen, the only murderer still at large, who turns out to be very different than what Warren had expected." [Klappentext, gekürzt]
.
16: JENNINE CAPO CRUCET, "Make your Home among Strangers"
komplexer Familienroman über eine Welt (Kubaner in Miami), die mir fremd ist.
400 Seiten, August 2015
"When Lizet, the daughter of Cuban immigrants, secretly applies and is accepted to an ultra-elite college, her parents are furious at her decision to leave Miami. But the privileged world of the campus feels utterly foreign, as does her new awareness of herself as a minority. Struggling both socially and academically, she returns to Miami for a surprise Thanksgiving visit, only to be overshadowed by the arrival of Ariel Hernandez, a young boy whose mother died fleeing with him from Cuba on a raft. The ensuing immigration battle puts Miami in a glaring spotlight, captivating the nation." [Klappentext, gekürzt]
.
17: TOM PIAZZA, "A Free State"
das könnte ein Mainstream-Historien-Bestseller werden: simpel, aber plastisch und interessant.
256 Seiten, September 2015
"1855. Blackface minstrelsy is the most popular form of entertainment in a nation about to be torn apart by the battle over slavery. Henry Sims, a fugitive slave and a brilliant musician, has escaped to Philadelphia, where he lives by his wits and earns money performing on the street. He is befriended by James Douglass—leader of the Virginia Harmonists. But black performers are not allowed to appear onstage, even in Philadelphia. Together the two concoct a dangerous masquerade to protect Henry's identity." [Klappentext, gekürzt]
.
18: DANIEL FALATKO, "Condominium"
Gentrifizierungs-Satire aus dem Kleinverlag eines Bekannten. Vielleicht zu simpel/dick aufgetragen?
264 Seiten, September 2015
"Charles and Sarah are a typical New York creative class couple — he's in finance, she works at a hipster small press. But when they decide to take the logical next step and buy a condo in one of the glass-and-steel skyscrapers now dotting the waterfront of Williamsburg, their lives start to fall apart almost the moment after they sign their mortgage. A touching ode to the a–holes ruining Brooklyn, this literary debut of "the Millennial John Updike" is a funny yet wistful dramedy about young urban life during the Great Recession." [Klappentext, gekürzt]
.
19: BUCKY SINISTER, "Black Hole"
Außenseiter-Roman, kurz, kantig, düster.
160 Seiten, August 2015
"Every addict has that one special vice that can tip them from relatively functional to completely unhinged. For Chuck, it's a new drug that doesn't even have a name yet. But when chunks of time begin to disappear and rearrange themselves , he wonders if this really is just another life-ruining drug or if it's something straight out of a Philip K. Dick universe." [Klappentext, gekürzt]
.
…und von 2014, erst jetzt entdeckt:
.
20: MARTHA BAILLIE, "The Search for Heinrich Schlögel"
magischer Realismus: Ich bin gespannt, ob mich dieser Deutsche als authentisch *deutsche* Figur überzeugt.
345 Seiten, September 2014
"[German] Heinrich Schlögel sets out on a two-week hike into the isolated interior of Baffin Island, Canada. His journey quickly becomes surreal. When he returns, he discovers that thirty years have passed." [Klappentext, gekürzt]
.
Um 20 Bücher zu finden, lese ich über 150 empfohlene/gefeierte/preisgekrönte Bücher an. Ich bin gespannt, welche dieser Bücher den Sprung in deutsche Verlage/Buchhandlungen schaffen.
.