.

Einmal pro Monat stelle ich 20 unbekannte oder neue Bücher vor.
heute: Bücher aus und über Japan.
viele davon gefunden bei "Japanliteratur.net", einer übersichtlichen, toll gestalteten, sehr gut informierten Magazin von Friederike Krempin.
20 Titel – angelesen, gemocht und vorgemerkt:
.
01: SAIICHI MARUYA, "Die Journalistin" / "A Mature Woman" 
342 Seiten, 1993.
Journalistin Mitte 40 aus Tokio, verstrickt in eine Politaffäre: Gesellschaftsroman, Psychogramm und Satire.
auch interessant, vom selben Autor: "Grass for my Pillow", 1966
02: MORIO KITA, "In Nacht und Nebel"
567 Seiten (tschechische Ausgabe) vs. 176 Seiten (deutsche Ausgabe), 1964.
ein japanischer Arzt sitzt in einer Nervenheilanstalt der Nazis fest: wird er nicht bald gesund, droht ihm die Euthanasie.
auch interessant, vom selben Autor: "Ghosts", 1992 (?)
03: TERU MIYAMOTO, "Kinshu: Autumn Brocade"
208 Seiten, 1982.
Briefroman über ein Ex-Liebespaar, das sich zehn Jahre später in einem Onsen in den Bergen wiedersieht.
04: MINATO KANAE, "Confessions"
240 Seiten, 2007.
Monolog einer Lehrerin und Mutter, die der Schulklasse, die sie unterrichtet, die Schuld am Tod ihrer Tochter gibt und sich an den Kindern rächen will. Etwas trashiger (?), aber mitreißender Thriller.

05: YUKIO MISHIMA, "Runaway Horses"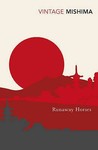 06: HIROMI KAWAKIMI, "The Briefcase" / "Der Himmel ist blau, die Erde ist weiß"
176 Seiten, 2001.
Eine Frau Ende 30 trifft ihren 30 Jahre älteren Professor in einer Bar wieder. Sie werden ein Paar.
07: NATSUKI IKEZAWA, "A Burden of Flowers" / "Schwere Blumen"
280 Seiten, 2000.
Ein junger heroinabhängiger Japaner soll in Indonesien wegen Drogenbesitz hingerichtet werden: düsterer Justizroman.
08: ALAN BOOTH, "Looking for the Lost: Journeys through a vanishing Japan"
340 Seiten, 1995.
Um Noh-Theater zu lernen, zieht Booth mit 24 nach Japan. Er bleibt 33 Jahre lang, bis zu seinem Tod – und schreibt hier über seine Wanderungen und Reisen durch die japanische Provinz.
09: OSAMU DAZAI, "The Setting Sun"
175 Seiten, 1947.
Als ihre verwitwete Mutter krank wird, muss eine unverheiratete Frau mit ihr aufs Land ziehen: Nachkriegsroman über soziale Kälte und Abstieg.
10: MAXENCE FERMIN, "Snow"
112 Seiten, 1999.
verknappter, poetischer Roman über einen jungen Haiku-Autor im 19. Jahrhundert, seinen blinden Lehrer und eine Hochseilartistin aus Frankreich, in die er sich verliebt. Könnte schlimmer Kitsch sein – aber stilistisch macht es Spaß.
11: YASUNARI KAWABATA, "First Snow on Fuji"
12: FLORENT CHAVOUET, "Tokyo on Foot. Travels in the City's most colorful Neighborhoods"
206 Seiten, 2009
Reisebericht, Visual Guide, Graphic Novel, illustriertes Geschenkbuch: ein harmloser, aber wunderschöner Reiseratgeber von einem Illustrator, der mehrere Bücher zu beliebten Reiseziele in Japan macht(e).
13: SAWAKO ARIYOSHI, "The River Ki"
243 Seiten, 1959.
drei Generationen von Frauen, vom Ende der Edo-Zeit bis zum zweiten Weltkrieg, und ihr Leben an einem Fluss in der Provinz.
von der selben Autorin angelesen und gemocht (wirkt aber etwas didaktisch und Biopic-artig): "The Doctor's Wife" (1978)
14: SHUSAKO ENDO, "The Sea and Poison"
167 Seiten, 1957
Am Stadtrand von Tokio versucht ein Arzt, seine Lebenslügen und Kriegsverbrechen hinter sich zu lassen.
vom selben Autor angelesen – aber gelangweilt von der deutschen Übersetzung: "When I whistle" / "Eine Klink in Tokio" (1974)
15: EIJI YOSHIKAWA, "Musashi"
970 Seiten, 1935
historischer Schmöker über einen Schwertkämpfer, Samurai und Feldherrn im 17. Jahrhundert: viele dieser Bücher sind schleppend – besonders in der Übersetzung. Dieses hier hat mich schnell gepackt.
ähnliche Mainstream-Titel, angelesen und gemocht: "Shogun" (James Clavell, 1975), "Hiroshima" (John Hersey, 1946)
16: BEATE SIROTA GORDEN, "The only Woman in the Room: A Memoir of Japan, Human Rights and the Arts"
176 Seiten, 1998
Beate, Tochter russischer Juden, hilft direkt nach dem 2. Weltkrieg beim Aufsetzen der japanischen Verfassung: ruppige, etwas überdrehte Lebenserinnerungen einer streitbaren und selbstbewussten Frau.
17: NATSUME SOSEKI, "And then"
248 Seiten, 1909
Ein junger Idealist wird immer tiefer ins Leben seines besten Freundes und dessen labiler Frau gezogen.
Klassiker vom selben Autor: "Kokoro" (1914)
18: SAYO MASUDA, "Autobiography of a Geisha"
185 Seiten, 2003.
Rezension auf Japanliteratur.net (Link)
abseits vom Arthur-Golden-Kitsch erzählt eine Geisha von ärmlichen, schwierigen und verstörenden Jahren in der Provinz.
19: YASUSHI INOUE, "Die Eiswand"
415 Seiten, 1956
Zwei Freunde und Bergsteiger-Rivalen kämpfen um die selbe Frau.
Ich liebe Inoues "Meine Mutter" und empfehle es oft. Niemand in meinem Freundeskreis kann viel damit anfangen. Freundin L. nahm es mit in den Strandurlaub und sagte danach: "Ich war gelangweilt. Aber meine 80jährige Oma fand es, glaube ich, nicht schlecht."
andere Titel von ihm, die ich angelesen habe und mochte: "Schwarze Flut", "Bullfight", "Amore" (1950)
20: HIKARU OKUIZUMI, "Das Gedächtnis der Steine"
158 Seiten, 2000 oder früher (hier der Amazon-Link)
Rezension auf Japanliteratur.net (Link)
Jahre nach dem zweiten Weltkrieg, nach dem Tod seines Sohnes, stellt sich ein inzwischen Erwachsener Familienvater seiner Kriegstraumata und verdrängten Ängsten.
Klassiker, angelesen und gemocht:
.
Expat- und US-Literatur, angelesen und gemocht:
.
sympathische Unterhaltungsromane:
gelesen – und sehr gemocht:
Ich habe alle Haruki-Murakami-Bücher gelesen… und empfehle besonders (in absteigender Reihenfolge):
.
fünf Manga, denen ich das größte denkbare Publikum wünsche:
.
fünf Japan-Romane, die ich empfehle:
.
verwandte Posts:
und: